On-Site Catering
Our on-site catering events are held in our dining room, which seats up to 54 people for a sit-down meal and 45 for a buffet. For our events, we usually use our Lunch and Dinner menus to build a great set menu or buffet for you and your guests. The sit-down meal is usually a 3 or 4-course meal with 2 shared family-style appetizers --- everyone gets our Insalata Della Casa, you choose 4 entrees and 2 of our homemade desserts for your guests to select from at the event.
For a more unique event, we also offer a wine coursed dinner. Erin will customize a great meal for you and your guests and pair a fabulous wine with each course, you can also add the option of a speaker to talk about the wines with the courses throughout the dinner.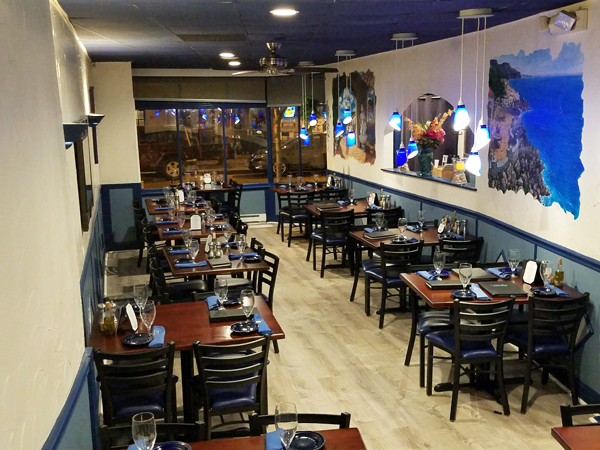 A more casual option is our wine tasting option. You can choose anything from chocolate & wine to cheese & wine. This is great for birthdays or bridal showers. Your guests and mingle enjoy at their own pace.

If you see something in one of our off-site catering menus please feel free to inquire about offering it at your event. For the bar we have a few options, the most popular is the open bar, which covers all drinks for the duration of the party. We can also pour a red and white of your choice, or just go drink by drink. We do not have a room rental fee for any of our events, we do take a deposit that is deducted from your bill the night of the event. The deposit is to block the space in our books from other diners and is fully refundable if the event is canceled 10 days prior to the day of the event.

These are just some suggestions so please contact us with any questions or if you have a different vision for your event, we are always open to and love new ideas.

Please contact Erin Dryden at ErinThis email address is being protected from spambots. You need JavaScript enabled to view it. or 410-570-4648
---
Off-Site Catering Events & Pick-up Platters

We offer many off-site options for catering, pick up, delivery, set up and clean up or full-staffed affairs.

The pickup options come in 2 sizes a 1/2 and full pan, we suggest the 1/2 for about 8-10 people and the full for 18-20 people. As you add more platters this may go down.

Please let us know if you will need cutlery, napkins, plates and or serving utensils
For delivery, we will need 24 hours notice and the fee will be based upon distance.
If you would like to set up and delivery with set up and clean up pricing will be based on function size and length of time. We do offer chaffing dish rentals.
For full catering we will not charge for delivery, set up or clean up separately, this will be built in the per-hour pricing for your staff. We offer, servers, bartenders and chefs. We will recommend the amount of staffing you will need based upon the size of your event. The staff will need at least 1 hour before and after the event to set up and clean up.

With all events we do offer party coordinating services along with full rentals of tables, chairs, plates, etc...

Please contact Erin Dryden at This email address is being protected from spambots. You need JavaScript enabled to view it. or 410-570-4648


Click here for a downloadable PDF of our Menu